CyNetworkBMA: a Cytoscape app for inferring gene regulatory networks
Source Code for Biology and Medicine
2015
10:11
Received: 22 December 2014
Accepted: 31 October 2015
Published: 11 November 2015
Abstract
Background
Inference of gene networks from expression data is an important problem in computational biology. Many algorithms have been proposed for solving the problem efficiently. However, many of the available implementations are programming libraries that require users to write code, which limits their accessibility.
Results
We have developed a tool called CyNetworkBMA for inferring gene networks from expression data that integrates with Cytoscape. Our application offers a graphical user interface for networkBMA, an efficient implementation of Bayesian Model Averaging methods for network construction. The client-server architecture of CyNetworkBMA makes it possible to distribute or centralize computation depending on user needs.
Conclusions
CyNetworkBMA is an easy-to-use tool that makes network inference accessible to non-programmers through seamless integration with Cytoscape. CyNetworkBMA is available on the Cytoscape App Store at http://apps.cytoscape.org/apps/cynetworkbma.
Keywords
Bayesian NetworkLassoBayesian Model AverageNetwork InferenceSystem Biology Markup Language
Background
Networks in the form of directed and undirected graphs are commonly used to model complex interactions between biological entities in a living organism. The construction of gene regulatory networks from omics data is a fundamental problem in computational biology [1]. Recent advances in high-throughput methods have enabled us to rapidly quantify expression levels of large numbers of genes at low cost. This new abundance of big data sources highlights unique challenges in turning such data into useful information on regulatory relationships. The high dimensionality of expression data has spurred the search for robust and computationally efficient network inference algorithms.
Network inference is a computationally intensive process and different approaches have been shown to work well with different types of data sets [2, 3]. Bayesian networks [4] have been used to construct gene networks using gene expression data [5, 6]. Algorithms based on Bayesian networks that integrate multiple data sources have also been developed. For example, Zhu et al. integrated gene expression, DNA variation, DNA protein binding, protein metabolite interaction, and protein protein interaction data using Bayesian networks [7, 8]. Other methods rank edges based on correlation or mutual information [9, 10]. Regression-based algorithms formulate network inference as a variable selection problem with the goal to search for candidate regulators (i.e., parent nodes) for each target gene, for example [11–13]. In particular, we previously showed the effectiveness of Bayesian Model Averaging (BMA) regression methods using time series data, in which snapshots of expression levels are taken at a few regular intervals after exposure to a drug perturbation [14]. Later work highlighted the ability of BMA to integrate external biological knowledge in the network building process to improve prediction accuracy [15]. Most recently, we have introduced the ScanBMA method for searching the model space, which significantly improves prediction accuracy and computational efficiency [16]. These BMA network inference methods are implemented in the networkBMA package [17] as part of Bioconductor [18].
Many implementations of network inference algorithms are only available as libraries or packages that require knowledge of a programming language. This limits the number of potential users in the biomedical community. For instance, users need to be familar with the R programming language to use the software implementations of network inference methods in Bioconductor such as minet [19], Genenet [20], predictionet [21], TDARACNE [22], networkBMA [17]. Relatively few options exist for researchers looking for easy-to-use network generation tools that do not require writing code. One notable example is GRN2SBML [23] which provides both a R package and a graphical user interface. GRN2SBML represents networks using the XML-based systems biology markup language (SBML) [24] and can be used in conjunction with three network inference algorithms including NetGenerator [25], TILAR [26] and ExTILAR [27].
As another example, Cyni Toolbox (http://www.proteomics.fr/Sysbio/CyniProject) is a Cytoscape app that offers several network inference algorithms based on correlation, mutual information, and other approaches. Cyni Toolbox leverages rich functionality offered by Cytoscape, a platform for visualizing complex networks [28]. Cytoscape allows users to load various types of interaction data sets for modeling and analysis and integrate them with additional metadata using a graphical interface. One of the most powerful features of Cytoscape is its extensibility. Dozens of apps provide extra functionality in areas such as network generation, data import, network analysis, and many more [29].
Our contributions
In this paper, we present CyNetworkBMA, a Cytoscape app that brings the powerful features of networkBMA to a wider biomedical community. CyNetworkBMA offers an alternative, GUI-based way of running BMA network inference, without the need to write even a single line of code. To construct a network from expression data, the user simply needs to load input files into Cytoscape and select a few options from a dialog window. The application provides default values for parameters required by networkBMA, but users can override them using the advanced options dialog. The input data can represent static expression levels as well as time series. CyNetworkBMA can also provide an assessment of the generated network if reference regulator-target gene pairs are available from the literature or other data sources. CyNetworkBMA can generate a large number of common assessment statistics, such as sensitivity, specificity, precision and recall. It can also plot ROC and precision-recall curves for the inferred network model and export assessment results to a file.
Figure
1
presents the overall application flow. A detailed user guide containing screen shots and step-by-step instructions for installing and using CyNetworkBMA is available as Additional file
1
.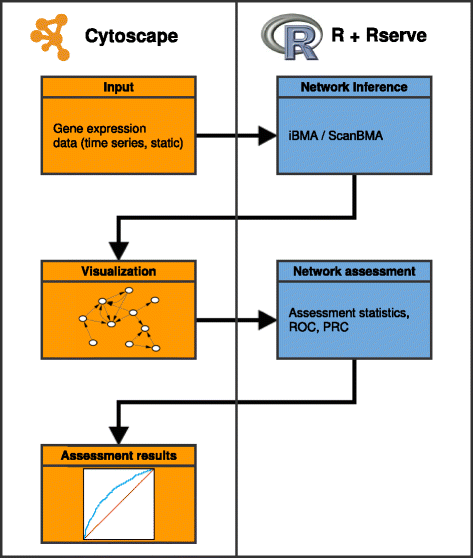 Methods
CyNetworkBMA is implemented in Java as an OSGi bundle app compatible with Cytoscape 3.1.0 and later. It uses Rserve to integrate with R over a binary protocol on top of TCP/IP [30]. This means Cytoscape and R run in separate processes, potentially on different machines and platforms. CyNetworkBMA requires certain packages to be installed on the R instance: networkBMA for network inference and assessment, igraph [31] for algorithms used in removing potential cycles from networks, and Rserve for exposing R services over TCP/IP.
For large networks, the inference algorithm can run for a long time and it would be impractical to block Cytoscape until the execution finishes. Therefore, CyNetworkBMA runs each network inference job in a dedicated background thread. The user can use Cytoscape normally while a job is running. The app will display a notification when the job finishes or encounters an error. Multiple jobs can run in parallel at any given time. However, an R server running on Windows can handle only one connection at a time because of a limitation of Rserve implementation for that platform.
Conclusions
We have developed CyNetworkBMA to make BMA network inference accessible to a wide user base by integrating networkBMA with Cytoscape. CyNetworkBMA takes advantage of Cytoscape's support for multiple platforms, including Microsoft Windows, Linux and Mac OS X. The BMA algorithm itself can run on a local or remote R server. Multiple users can therefore submit jobs to a central server without having to install R on their machines. On the other hand, a single user can submit different jobs to different servers for parallel execution. Our application addresses both the usability and scalability of inferring gene networks from omics data.
Availability and requirements
Project name: CyNetworkBMA

Project home page: http://webdatascience.github.io/CyNetworkBMA

Operating system(s): Platform independent

Programming language: Java, R

Other requirements: Cytoscape 3.1.0 or higher, R 3.0 or higher, Java 1.6 or higher, networkBMA package from Bioconductor, Rserve and igraph packages from CRAN installed.

License: GNU GPL v2

Any restrictions to use by non-academics: None
We tested CyNetworkBMA on the following operation systems: Mac OS 10.8, 10.9, Windows 8, Windows 10, Ubuntu 12.04 and 14.04. Our latest testing includes Cytoscape 3.2.1, Java 1.8, R 3.2.1.
Declarations
Acknowledgements
We thank Ankur Teredesai for valuable discussions, Chris Fraley and Chad Young for their contributions to the networkBMA package.
Open Access This article is distributed under the terms of the Creative Commons Attribution 4.0 International License (http://creativecommons.org/licenses/by/4.0/), which permits unrestricted use, distribution, and reproduction in any medium, provided you give appropriate credit to the original author(s) and the source, provide a link to the Creative Commons license, and indicate if changes were made. The Creative Commons Public Domain Dedication waiver (http://creativecommons.org/publicdomain/zero/1.0/) applies to the data made available in this article, unless otherwise stated.
Authors' Affiliations
(1)
Institute of Technology, University of Washington, Tacoma, USA
(2)
Department of Statistics, University of Washington, Seattle, USA