Knowledge Driven Variable Selection (KDVS) – a new approach to enrichment analysis of gene signatures obtained from high–throughput data
Source Code for Biology and Medicine
2013
8:2
Received: 28 September 2012
Accepted: 13 December 2012
Published: 9 January 2013
Abstract
Background
High–throughput (HT) technologies provide huge amount of gene expression data that can be used to identify biomarkers useful in the clinical practice. The most frequently used approaches first select a set of genes (i.e. gene signature) able to characterize differences between two or more phenotypical conditions, and then provide a functional assessment of the selected genes with an a posteriori enrichment analysis, based on biological knowledge. However, this approach comes with some drawbacks. First, gene selection procedure often requires tunable parameters that affect the outcome, typically producing many false hits. Second, a posteriori enrichment analysis is based on mapping between biological concepts and gene expression measurements, which is hard to compute because of constant changes in biological knowledge and genome analysis. Third, such mapping is typically used in the assessment of the coverage of gene signature by biological concepts, that is either score–based or requires tunable parameters as well, limiting its power.
Results
We present Knowledge Driven Variable Selection (KDVS), a framework that uses a priori biological knowledge in HT data analysis. The expression data matrix is transformed, according to prior knowledge, into smaller matrices, easier to analyze and to interpret from both computational and biological viewpoints. Therefore KDVS, unlike most approaches, does not exclude a priori any function or process potentially relevant for the biological question under investigation. Differently from the standard approach where gene selection and functional assessment are applied independently, KDVS embeds these two steps into a unified statistical framework, decreasing the variability derived from the threshold–dependent selection, the mapping to the biological concepts, and the signature coverage. We present three case studies to assess the usefulness of the method.
Conclusions
We showed that KDVS not only enables the selection of known biological functionalities with accuracy, but also identification of new ones. An efficient implementation of KDVS was devised to obtain results in a fast and robust way. Computing time is drastically reduced by the effective use of distributed resources. Finally, integrated visualization techniques immediately increase the interpretability of results. Overall, KDVS approach can be considered as a viable alternative to enrichment–based approaches.
Keywords
Prior knowledge
High–throughput data
Gene signature
Enrichment analysis
Gene Ontology
Embedded Methods
Background
One of the challenges of modern molecular biology is to reconstruct the complex network of processes that govern all the activities of living organisms. HT technologies allow to measure the expression of thousands of genes simultaneously for each single biological sample [1, 2], but these data are difficult to analyze because the number of samples is always lower with respect to the number of variables (e.g. genes, proteins). Therefore, traditional statistical methods are unsuitable to face this challenge. Nevertheless, these data are currently used to identify possible biomarkers, useful in the clinical practice: 1) to stratify a group of people affected by a disease into separated groups that are predicted to progress differently, 2) to subtype a disease through the identification of subgroups of people, that are characterized by a different molecular landscape, or by a different response to a specific drug. The probability of finding biomarkers is higher within the specific list of genes, known as gene signature [3, 4], whose expression levels are able to separate two distinct phenotypic conditions (e.g. disease and healthy, tumor and metastasis) in comparison of two classes of biological samples. Such list can be identified in a typical binary classification setting [5].
Microarrays are a popular example of HT technology currently used to evaluate gene expression data that potentially contain meaningful gene signatures. The typical approach to analyze HT data is to first identify meaningful gene signatures and then to perform enrichment analysis [6, 7].
Several methods can be chosen to identify gene signatures. The most commonly used filtering methods (e.g. t–test, ANOVA) [8, 9] compare gene expression measurements to identify differentially expressed genes (DEG). The choice of the selection method is crucial because it affects the enrichment analysis. Specifically, if some relevant genes had not been included in the signature, it may not be possible to identify processes or functions that are connected with those genes, and that are relevant to the biological question addressed [10].
In the enrichment analysis, selected genes of the signature are compared with previously determined functional gene groups (that represent the current biological knowledge). To determine such groups, first it is necessary to assign genes to the biological concepts, that can be accomplished in various ways [11, 12]. Then, the significant presence of genes in an individual group is assessed with some scoring schema or statistical test [6, 13, 14].
Thus, in the classic enrichment analysis approach, the discovery method is not affected by the prior knowledge and it is performed independently with respect to the functional analysis. On the opposite, using prior knowledge before the selection step, the discovery method is applied according to the prior knowledge, thus giving a direct biological contextualization of the gene signature (Figure
1
).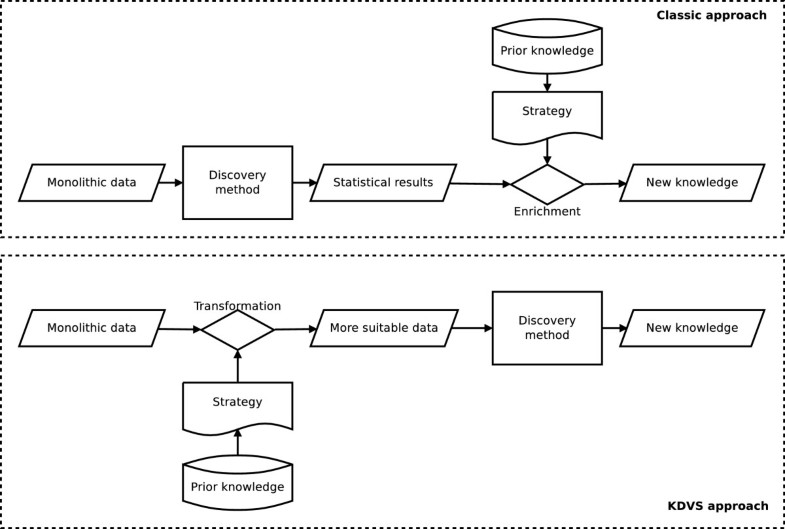 Several efforts in this direction have been recently presented in the literature. In [15], pathway information has been incorporated into logistic regression models. In [16–20] topological properties of Kyoto Encyclopedia of Genes and Genomes (KEGG) pathways have been used to constrain the learning process. The use of Gene Ontology (GO) as prior information has been explored in [21], where the authors propose a classification model based on functional groups of genes. A comparison of the performance obtained using different kind of knowledge has recently been presented in [22].
In this paper, we present KDVS (see Additional file 1), an implementation of the second case aforementioned, where the prior biological knowledge is used before the identification of the gene signature, the procedure itself is not altered, and the gene signature is defined according to the chosen source of prior knowledge. This framework can be considered as an alternative to most popular approaches of HT data analysis.
In contrast to other methods, KDVS accepts as input, besides the gene expression data, also specific annotations for HT platforms, and a representation of prior biological knowledge. As output, instead of gene signature and the results of the enrichment analysis, KDVS produces the list of significant biological concepts, as well as, for each of them, the list of significant genes that can be considered as individual signature associated to the concept.
The current implementation uses microarrays as source of gene expression data [23]. To analyze these data, among several supervised classification and variable selection methods [4, 24], we choose , an embedded regularization method for variable selection, proven to identify subsets of discriminative genes [25, 26]. Gene Ontology (GO) is used as prior knowledge source [27].
KDVS is implemented in Python [28]. It was designed according to the principle of individual applications that share common functionality through the Application Programming Interface (API). Such modularized way allowed to dynamically adjust desired functionality piece by piece across a long time frame, which is crucial in the development of successful methodologies in statistical learning community. Also, it allowed to implement necessary solutions for standard bioinformatics–related problems, such as identifier mappings, in independent way. At the end, it allowed to seamlessly introduce the usage of parallel resources for time–consuming computations. Furthermore it is general enough to be applied to any other experiment that involves a two classes setting problem and it could be extended to a regression or multi-class setting.
The framework has been successfully applied to the analysis of microarray data in experiments regarding neurodegenerative diseases, namely Alzheimer's and Parkinson's diseases [29, 30], as well as prostate cancer [31].
Conclusions
The KDVS framework has been developed to demonstrate the advantages of using prior biological knowledge before identifying the list of GO terms and genes statistically discriminant between two classes in the analysis of high-throughput data. Therefore it is presented as an alternative method to the most frequently used approaches that use prior knowledge a posteriori, once the gene signature has been identified. Its modular structure allows quick adaptation to different HT data types, prior knowledge sources, and different classification and variable selection approaches. The usage of distributed resources overcomes demanding computational requirements that are common in HT data analysis (microarray, NGS, etc.). Furthermore the conceptual integration of the visualization approach in the framework activities determines greater interpretability of the results, especially for life science researchers.
In the future, we plan to make tighter integration with existing semantic clustering approach, to introduce different sources of prior biological knowledge, to accept different HT data, and to introduce wide range of classification and variable selection techniques.
Abbreviations
HT:

high-throughput
KDVS:

Knowledge Driven Variable Selection
DEG:

differentially expressed genes
GO:

Gene Ontology
API:

Application Programming Interface
GEDM:

Gene Expression Data Matrix
DSV:

Delimiter Separated Values
GEO:

Gene Expression Omnibus
DAG:

Directed Acyclic Graph
RDF:

Resource Description Framework
XML:

Extensible Markup Language
HGNC:

HUGO Gene Nomenclature Committee
RLS:

Regularized Least Squares
MCC:

Matthews Correlation Coefficient
FS:

Feature Selection
PP:

Parallel Python
GOA:

Gene Ontology Annotations
MF:

Molecular Function
BP:

Biological Process
PD:

Parkinson's disease
LOO-RLS:

Leave-One-Out-Regularized Least Squares
NGS:

next–generation sequencing.
Declarations
Acknowledgements
We thank Salvatore Masecchia for the development of L1L2Py and PPlus.
Authors' Affiliations
(1)
DIBRIS, University of Genoa, Genova, Italy
(2)
Information Engineering Department, University of Padova, Padova, Italy
Copyright
© Zycinski et al.; licensee BioMed Central Ltd. 2013
This article is published under license to BioMed Central Ltd. This is an Open Access article distributed under the terms of the Creative Commons Attribution License (http://creativecommons.org/licenses/by/2.0), which permits unrestricted use, distribution, and reproduction in any medium, provided the original work is properly cited.